Saturday, February 9, 2008
Friday, January 25, 2008
http://news.bbc.co.uk/2/hi/south_asia/7207664.stm
Appalling' poultry farms exposed
By Amitabha Bhattasali
BBC News, Calcutta
A leading animal rights group in the Indian state of West Bengal has released film clips which it says shows the appalling state of poultry farming.
Footage taken by the People for the Ethical Treatment of Animals [Peta] shows crowded, filthy and unhygienic conditions in chicken farms.
They say that their film shows that the conditions the chicken are kept in has led to the spread of the H5N1 virus.
Peta volunteers say the evidence has been compiled over a five year period.
Poultry farmers have denied the group's conclusions and criticised the report as "erroneous".
Health hazard
"These birds are crammed by the tens of thousands into dark, filthy sheds. They can't even move their wings. The chickens' accumulated waste actually burns their eyes," Peta spokesman G Jayasimha told the BBC.
Peta say the chickens are kept in cramped and filthy conditions
The report released by the group says that antibiotics are "routinely fed" to healthy livestock and poultry to make them gain weight faster and to compensate for unsanitary living conditions.
"Poultry sold under such unhygienic conditions is a serious health hazard," it says.
The report says that chickens are forced to reach their slaughter weight in just 40-42 days which means that their legs, heart and lungs cannot keep pace with the rapidly growing body weight.
It says this leads to various problems including congestive heart failure and ascites - a pooling of body fluids in the abdomen.
'High standards'
"For many birds, leg problems are so severe that they are unable to reach food and water. During transportation to slaughter - which involves long rides in all weather extremes - broken bones commonly occur.
"After they arrive at abattoirs, chickens are rapidly shackled and hung by their feet from conveyors in mechanised slaughterhouses. Many are often dumped into scalding hot de-feathering tanks while still conscious," the Peta report says.
Poultry farmers have rejected the allegations.
"The Indian poultry sector is one of the best managed ones in this region. Our practices are often compared to those in developed countries," said Madan Maity, chairman of the West Bengal chapter of National Egg Coordination Committee, an organisation of the poultry owners.
"We definitely maintain high standards of health and hygiene including vaccination," he said.
Posted by

Naresh Kadyan
at 2:54 AM
1 comment:

Tuesday, January 22, 2008
http://www.voanews.com/english/2008-01-22-voa73.cfm
Indian workers at a bird culling site north of CalcuttaIndian leaders say no human cases of the bird flu have been reported so far, but the virus has spread to poultry in seven districts in the eastern state of West Bengal.
India's Health Minister Anubumani Ramadoss Tuesday criticized the state's handling of the outbreak, saying quicker action could have prevented the spread of the virus.
Bird flu was first detected in West Bengal last week, with 400,000 birds slaughtered so far. State officials say another two million birds will need to be killed in the next week.
Health workers are fighting an uphill battle in the state, with many local villagers unaware of the bird flu and refusing to give up their poultry to be killed. Officials continue to collect and analyze blood samples from residents.
Nepalese officials have banned poultry imports from neighboring India.
And in Bangladesh, health workers are scrambling to contain the spread of the disease, which has already reached nearly half of the country's 64 districts.
Separately, in Indonesia today, health officials confirmed that a 30-year-old man has become the country's 120th person to be infected with the virus.
According to the World Health Organization, bird flu has killed at least 218 people worldwide since 2003, mostly in Asia. Indonesia has seen the most deaths in the world, where the WHO says 97 people have already died from the disease.
Some information for this report provided by Reuters, AP and AFP.
Posted by

Naresh Kadyan
at 6:20 PM
No comments:

http://www.tribuneindia.com/2008/20080123/main5.htm
Flu spreads but no human infections
Tribune News Service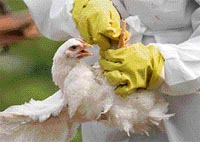 New Delhi, January 22
The UPA government sought to allay fears today about bird flu spreading in West Bengal among the people. "To date we have not got any confirmation of humans been affected by the flu," union Health minister Anbumani Ramadoss told mediapersons here on the sidelines of a function here.
Even as more districts in West Bengal were been afflicted by flu, Ramadoss claimed that screening was conducted within 10 km of the affected areas and all people who lived in villages had been randomly tested by the teams of his ministry. "There is no reason to be concerned about any human cases of bird flu," the minister observed. At the same time Ramdoss insisted that "we are all vigilant."
The minister disclosed that three samples which had been sent to the National Institute of Communicable Diseases in the national capital had tested negative. Simultaneously, the NICD, Kolkata, which tested five samples, has confirmed today that all of them were negative for the presence of avian influenza.
Though there have been complaints of slow culling of birds, the minister said yesterday 71,000 chicken were culled and 61,000 eggs destroyed.
Earlier, inaugurating the centenary celebrations of the Trained Nurses Association of India (TNAI), Ramdoss emphasises that the nursing profession occupies a strategic position in the primary healthcare network and the mainstay of the healthcare delivery system.
He said besides patients care, nurses were required today for unconventional roles like promoting healthcare practices, educating people about disease prevention, offering family welfare services, counselling and motivation. Nurses are the ones who provide the most vital maternal and child heath care services to the community.
Ramdoss said higher allocation of Rs 2,900 crore has been proposed during the XII Plan besides Rs 280 crore for the existing schemes.
Posted by

Naresh Kadyan
at 6:07 PM
No comments: